Jobs
Employment 15 Total Jobs.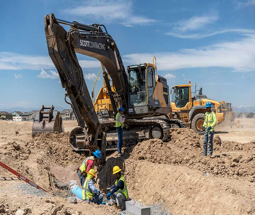 Join IHC Scott's dedicated and diverse team of experienced project managers, field superintendents, tradesmen, and other professionals to serve the evolving needs of a rapidly growing Colorado. Our team members develop innovative solutions and provide outstanding service as a provider of construction services including earthwork, utilities, concrete structures, and concrete paving construction for public and private entities, as individual services, in combination, or in a turnkey fashion, including CM and GC services.
Scott employees enjoy a competitive salary, complete medical, vision & dental benefits, 401K match, life insurance, disability, and paid time off.

Below is a list of the current openings with our company. Click on the job title to learn more about the opening.
Civil 3D CAD & 3D Modeling Lead
GPS/Survey
Englewood, CO, USA
18-Dec-2022
Full Time
IHC SCOTT
Construction Project Manager
West Area
Denver, CO, USA
28-Dec-2022
Full Time
IHC SCOTT
Formsetter/Carpenter
Front Range - Concrete Paving
Denver, CO, USA
22-Dec-2022
Full Time
IHC SCOTT
General Superintendent (Concrete Flatwork)
Front Range - Structures
Denver, CO, USA
18-Dec-2022
Full Time
IHC SCOTT
General Superintendent (Structures)
Front Range - Structures
Denver, CO, USA
18-Dec-2022
Full Time
IHC SCOTT
Heavy Equipment Welder/Fabricator
Transportation/Shop
Denver, CO, USA
11-Dec-2022
Full Time
IHC SCOTT
Project Engineer
West Area
Denver, CO, USA
28-Dec-2022
Full Time
IHC SCOTT
Project Engineer
Denver Area
Denver, CO, USA
29-Dec-2022
Full Time
IHC SCOTT
Project Manager
Front Range - South
Colorado Springs, CO, USA
18-Dec-2022
Full Time
IHC SCOTT
Project Manager
Western Slope
Grand Junction, CO, USA
01-Dec-2022
Full Time
IHC SCOTT
Project Manager
Western Slope
Grand Junction, CO, USA
28-Dec-2022
Full Time
IHC SCOTT
Rollback Driver - CDL Class A
Transportation/Shop
Denver, CO, USA
30-Dec-2022
Full Time
IHC SCOTT
Senior Construction Project Manager
West Area
Denver, CO, USA
28-Dec-2022
Full Time
IHC SCOTT
Senior Estimator
Corporate
Englewood, CO, USA
01-Dec-2022
Full Time
IHC SCOTT
Superintendent (Structures)
Front Range - Structures
Denver, CO, USA
29-Dec-2022
Full Time
IHC SCOTT
IHC Scott is an Equal Opportunity/Affirmative Action Employer

We encourage all employees, regardless of race, religion, gender, age, color, national origin, disability, or covered veteran status to seek training opportunities to enhance their careers. As an Equal Opportunity and Affirmative Action Employer, we encourage employees to refer qualified minorities, females, individuals with disabilities, and covered veterans for employment. Please select the links below for our E-Verify and Right to Work Posters.

E-Verify
Right to Work
E-Verify - Spanish
Right to Work - Spanish